Rouhani urges Myanmar to stop crimes against Rohingya
September 6, 2017 - 20:34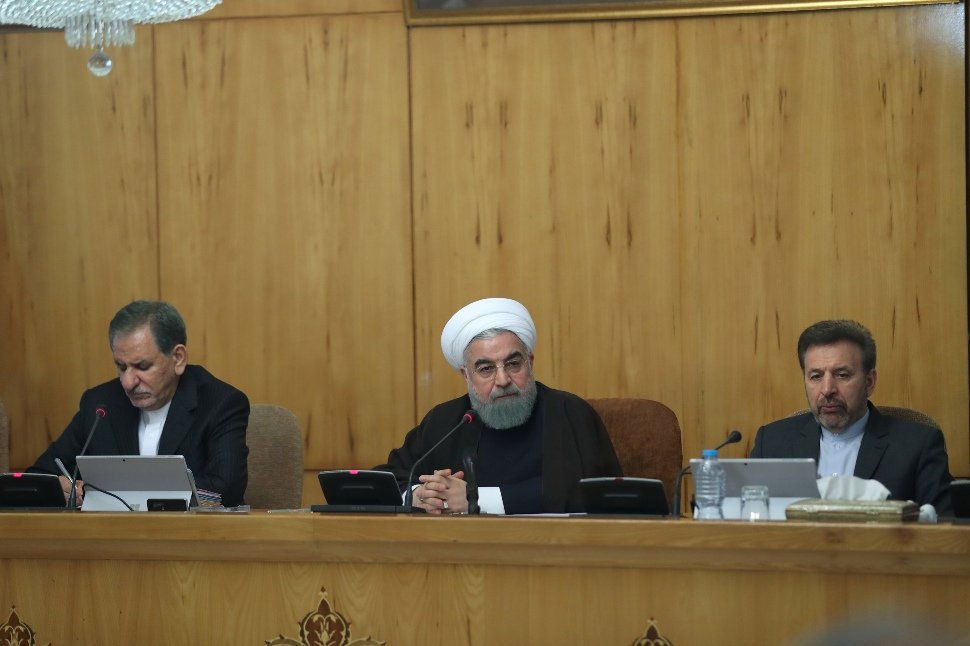 TEHRAN – Iranian President Hassan Rouhani on Wednesday urged the Myanmar government to put an end to vicious crimes against Rohingya Muslims in the Buddhist-majority country, ISNA reported.
At least 123,000 Rohingya have fled from western Myanmar into neighboring Bangladesh since late last month when violence erupted in Myanmar's Rakhine state, the UN said on Tuesday.
During a cabinet meeting, Rouhani pointed to the brutal killing of Myanmar's persecuted Rohingya minority, saying, "In Myanmar, Muslims are in a very difficult situation and hundreds of thousands have been displaced."
Rouhani added, "Many have been killed and their bodies burnt, and many houses have also been set on fire."
In recent days, as a military crackdown destroyed villages and killed hundreds, desperate people attempted to pass through muddy fields to escape the violence. At least 46 Rohingya died last week when boats capsized while crossing a river between Myanmar and Bangladesh.
Rouhani noted that there's no difference between Rohingya Muslims and other Muslims across the world.
"We, as a revolutionary Muslim country, feel responsible for the world's oppressed people, even those who are not Muslims," he said. "We have urged the Myanmar government to put a stop to the brutal crimes against Muslims."
He also urged neighboring and Muslim countries to help the displaced people of Myanmar, and voiced the Islamic Republic's readiness to lend a helping hand to the Rohingya.
The Rohingya are a largely Muslim ethnic group who mainly live in Rakhine state in western Myanmar, where they face severe restrictions on basic rights. There are an estimated 1 million Rohingya living in Myanmar, and up to another million refugees abroad.
Rouhani also called on the United Nations to fulfill its duties in response to the violence.
"Today, we should all take a firm stance against such acts of genocide and ethnic cleansing so that we can help the world's oppressed people, including the people of Myanmar," the Iranian president remarked.
Meanwhile, aid agencies say the Myanmar government has blocked their access to Rakhine state, increasing the risk to people fleeing the violence.
"By blocking access for humanitarian organizations, Myanmar's authorities have put tens of thousands of people at risk and shown a callous disregard for human life," Tirana Hassan, Amnesty International's director for crisis response, said in a statement.
"Rakhine state is on the precipice of a humanitarian disaster," she added.
The continuing violence has also provoked a storm of criticism of Aung San Suu Kyi, Myanmar's de facto leader and a Nobel Peace Prize laureate for her struggle against military rule.
On Monday, Malala Yousafzai, a fellow peace prize laureate, took to Twitter to criticize Suu Kyi, urging her to speak out about the plight of the Rohingya. The governments of several Muslim-majority countries, including Iran, Indonesia, Malaysia, Pakistan, the UAE and Turkey have also expressed concern over the issue.
Suu Kyi and her government have claimed that the Rohingya are migrants from Bangladesh who do not deserve citizenship rights, although most have roots in the area that go back generations.
On Wednesday, in response to widespread criticism, Suu Kyi claimed during a phone conversation with Turkish President Tayyip Erdogan a "huge iceberg of misinformation" about the Rohingya crisis was being distributed to benefit what she called "terrorists."
She also said her government was fighting to ensure "terrorism" didn't spread over the whole of Rakhine state.
MH/PA