Nation mourns loss of 32 sailors
Engulfed in the flames of sorrow
January 14, 2018 - 18:43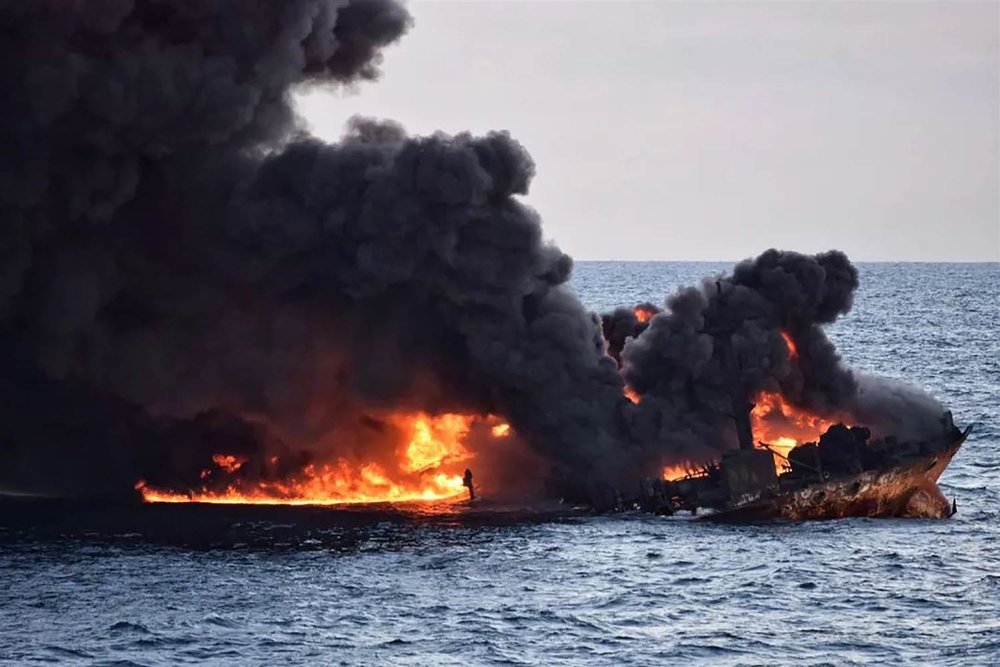 Profound grief and pain engulfed the Iranian nation over the loss of 32 sailors who died aboard an oil tanker which burst into flames and sunk, eight days after a collision with a cargo ship off the coast of China.
The Sanchi, carrying 136,000 tons of light crude oil from Iran, has been in flames since colliding with the CF Crystal on January 6, a Hong Kong-registered bulk freighter, some 300 kilometers east of Shanghai.
On January 13, Chinese rescuers recovered the tanker's "black box", the transport ministry said without specifying exactly what had been retrieved.
"There is no possibility of finding the bodies [of victims]," IRIB quoted Iran's labor minister Ali Rabiei who is in charge of a special task force for the incident as saying.
Mohammad Rastad, head of Iran's Ports and Maritime Organization said "Despite our efforts, it has not been possible to extinguish the fire and recover the bodies due to repeated explosions and gas leaks."
Parliament speaker Ali Larijani has said that the parliament's national security committee should pursue the issue.
President Hassan Rouhani issued a message of condolence saying that recovering the bodies of missing sailors and easing the pain and suffering of their families should be the first priority.
Gary Lewis, UN resident coordinator in Iran, wrote in his Twitter account: "On behalf of the UN Family in Iran, I extend our sincere condolences to those who lost loved ones in the Sanchi oil tank tragedy, as well as all Iranians."