Volunteers join forces to help flood victims 
April 5, 2019 - 19:40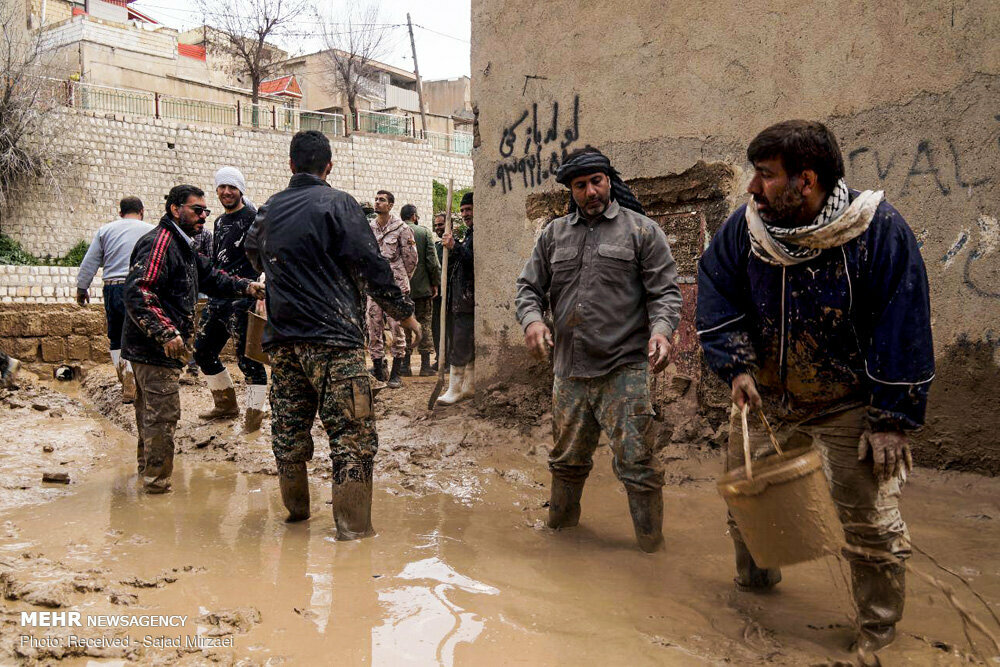 TEHRAN — While many cities and villages across the country from north to south and east to west have been hit by devastating flood military and relief forces as well as volunteer groups have collaborated in aiding flood-stricken people.
Following heavy rainfalls in the country particularly in provinces of Golestan, Mazandaran, Lorestan, and Khuzestan as well as other provinces in western, southwestern, and northeastern Iran severe flood struck many cities and villages.
Shahin Fat'hi, deputy director at Rescue and Relief Organization, said on Friday that 1900 cities and villages are affected by flood over the past two weeks.
According to the statistics by Iran's Forensics Organization since the current Iranian calendar year (started March 21), some 67 have lost their lives in floods in provinces of Fars, Lorestan, North Khorasan, Golestan, Mazandaran, Hamedan, Khuzestan, Kermanshah, Semnan, Kohgiluyeh and Boyer-Ahmad and Khorasan Razavi.
Moreover, Mojtaba Khaledi, Emergency Medical Services spokesman, also said that some 768 were injured due to flood and heavy rainfalls since the beginning of the holidays.
In addition to the casualties, the catastrophic floods have caused major damage to buildings and other structures, including bridges, sewerage systems, roadways, and canal as well as crops and livestock in many provinces, especially in Mazandaran, Golestan, and Lorestan.
Forces at Iran's Red Crescent Society, Islamic Republic of Iran Army, Islamic Revolutionary Guard Corps, as well as volunteer groups and charities are collectively attempting to help victims to stand on their feet once again.
The government and various charity organizations have pledged to provide the victims with non-repayable loans to compensate for the losses the floods have incurred.
According to Welfare Minister Mohammad Shariatmadari those provided with Iran's Welfare Organization coverage will receive non-repayable loans amounting to 100 million rials (nearly $2,400) to reconstruct their houses.
Headquarters for Executing the Order of the Imam also known as Setad-e Ejraiy-e Farman-e Hazrat-e Emam will grant 350 million rials (nearly $8,300) insurance payouts to flood victims in villages of the southwestern province of Khuzestan to rebuild their houses.
German Ambassador to Tehran Michael Klor-Berchtold also twitted yesterday that a charter plane with German humanitarian assistance for flood victims has landed in Iran.
MQ/MG