Road crashes claim 1,180 lives in Iran since summer
August 5, 2018 - 9:26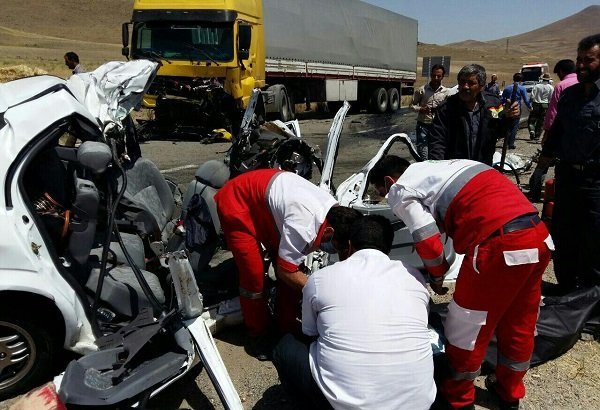 TEHRAN – Some 1,180 persons have been killed in Iran because of road crashes since the beginning of summer (starting on June 22), traffic police chief Mohammad Hossein Hamidi has said.
"Drowsy driving accounted for almost 40 percent of the road accidents in the country," Hamidi said, ISNA reported on Friday.
Moreover, unsafe lane changes and overtaking are also to blame for the accidents, he highlighted.
To reduce the number of casualties and injuries caused by road accidents, some actions have been carried out such as law reform and improving relief and rescue operations, he said.
He went on to say that over the last 45 days (since June 22), some 1,180 people have lost their lives in car crashes across the country, while some 30,000 have got injured.
Referring to Jersey barriers playing an important role in reducing road crashes, he noted that along with the construction of new roads, Jersey barriers are also installed on the roads, while for installing the barriers on the roads which are already constructed, the help of related organizations is required.
Touching on the fact that the highest rate of accidents occur in minor roads of the country, he said that improving road infrastructure and building rest places would certainly decrease the number of road crashes happen in minor roads or due to tiredness.
As the number of trips rises, road safety measures must be taken, otherwise positive efforts made over previous years would be ineffective, he added.
He went on to say that offering training courses and creating a culture of safe driving, promoting safe road construction, separating road lanes and freeways, has improved road safety and led to a drop in road casualties.
In March 2017, Traffic Police chief Taqi Mehri said that road casualties have decreased by seven percent from March 15, 2017 to April 4 in Iran compared to the same period last year, as some half a million individuals comprising police, health and safety inspectors, and rescue and relief forces have provided the travelers with services, Mehr reported.
However, as per the data published on May 2018, by Iran's forensics organization, 1,034 individuals lost their lives in road crashes (both inside the cities and on intercity roads) over the Iranian New Year holidays (from March 16 to April 4) which demonstrates a 24-percent rise year on year.
Distracted drivers are the top causes of car accidents. A distracted driver diverts his or her attention from the road, usually to talk on a cell phone, send a text message or eat food. traveling above speed limit, driving under the influence of drugs, reckless driving, poor weather conditions, running red lights, night driving, drowsy driving, defective automobiles, tailgating, and road rage are only some of the causes of fatal accidents.
Granted substandard vehicles and poor road conditions are also among the main causes of accidents, however, drivers play a bigger part in preventing or causing accidents.
FB/MQ/